At "Dubai-cooling.com" you can find all kinds of indoor or outdoor cooling rentals within UAE, (Dubai, Abu Dhabi, Sharjah, Ajman and all Emirates). Hire outdoor AC's, air coolers and portable air conditioners from several known brands. As a part of SORS group, There is no event cooling requirement that we cannot cover, no matter how big it is.
Our most rented cooling machines and A/C's (other capacities available on request):
Climate+ 8000m3 outdoor air cooler
One of the most known air cooling machines from Climate+. Its medium size, slim look and good air flow make it very suitable for most events.
Air flow : 8000m3/h
Book
Coolmax 2.5ton portable A/C
This durable portable air conditioner has been used in the Emirates for several years. It offers flexibility to be positioned inside or outside the intended area.
Capacity : ~2.5 ton
Book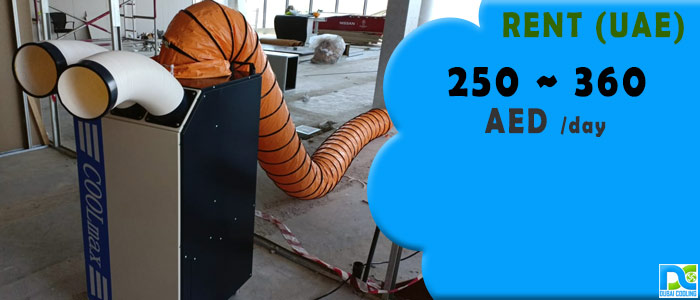 Generaltec 5ton standing air conditioner
Has been rented mostly for tents, with 1 unit enough for a small tent cooling. And using several units for bigger spaces. Unlike Coolmax, this air conditioner has outdoor & indoor unit, less flexible but still very good cooling capacity.
Capacity : 5 ton
Book
Why to use our cooling rental service:
The brands we use are well known in Emirates market Climate+, Coolmax and Generaltec.
Big stock in Dubai to cover small, medium and huge events all over the Emirates.
Best rates in market.
Quick maintenance and replacement on site when needed.
Special rates for longer lease periods.
Free setup and installation (till specific duct limits).
How to choose the right cooling solution:
The short answer, just call us for free consultation. The little longer answer, evaporative outdoor air coolers are used usually outdoors in open events. While Air conditioners are used in tents and similar indoor events, or semi-closed sites.